This article is the installation guide for BMW EVO wireless Apple Carplay (Android Auto) module, it is totally plug and play, keep all original EVO features after adding this Carplay module.
Check the video demo for wire-connection
Buy the BMW EVO Carplay module by click here:
P1: Accessories for BMW EVO Carplay
Instruction:
1, Plug and play power harness
2, LVDS: Video cable for BMW EVO Apple Carplay
3, USB-AUX adapter: it transfer the audio to BMW OEM sound system.
4, Wi-Fi antenna: Wi-Fi antenna for Apple Carplay, please notice, DO NOT attach it to metal when install it.
5, AV/USB cable:
P2: Wire Digram for BMW EVO Apple Carplay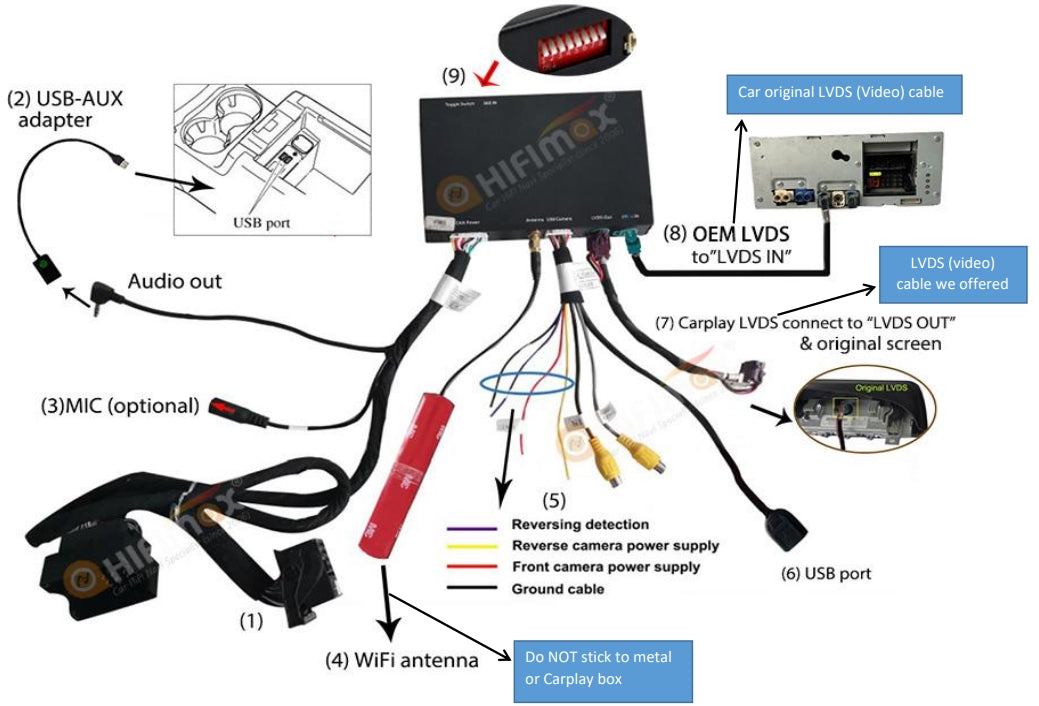 Instructions & key steps:
(1) Move the optical cable to new harness (if your original power harness contains optical fiber cable (2 green cable), so that the optical cable can continue to work as before. Important!
How to move the optical cable? Watch the video:
https://youtu.be/fJLT4Og8myg
(2) Audio connection

For BMW EVO car type, the audio transfer via USB, thus, it need to connect the USB-AUX audio adapter. It need to connect the Audio cable to USB port in armrest box.
(3) Microphone (optional)
The MIC (Microphone) is optional for installation, usually, it using original MIC.
(Set the "7" as OFF In Toggle switch settings).
(4) Connect Wi-Fi antenna
Connect Wi-Fi antenna for Apple Carplay, please notice, connect it to the plastic parts or materials, DO NOT connect it to metal.
(5) USB / RCA cable connection.
The RCA cable offer connectors for backup camera, when install the aftermarket backup camera, you should get the power (for camera) from this harness (instead of connecting to reverse light), important!
(7),(8) LVDS connection
Make sure the LVDS cable connected in the right way, if wrong connection, there is no picture on the display. Please refer to wire-diagram & video demo.
(9) Toggle switch settings (important)
FAQs:
Q1: I don't have sound when I connect Carplay, what can I do?
A: 1) Check the fiber cable as mentioned above.

2) Set AUX on OEM system: access to original car menu, choose "AUX-USB" and ajust the volume for AUX/USB (Because the audio go through factory USB, thus, it need to active the AUX/USB function)


3) If there is no sound after step1/2, check USB-AUX cable to USB port of armrest box.
Q2, I can't connect wireless Carplay automatically, what can I do?

1) Please confirm if you turn on wifi and connect carplay's bluetooth.
2) If your car has OEM bluetooth, please delete the connection record, then reconnect carplay's bluetooth.
3) Please confirm the wifi antenna is away from metal.
4) Please confirm all siri permissions are allowed(Fig.1).
5) Reset the connection records on the phone and car (Fig.2) simultaneously, then reconnect.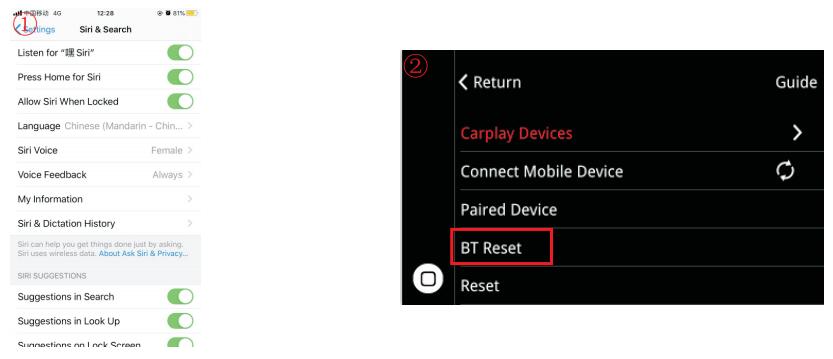 Q3: How to connect reverse camera?
1) Connect the reverse camera to CVBS OUT labeled 'Reverse camera'

2) Connect the cable labeled '12V reverse camera(yellow)' to camera power

3) Setting → Reverse → Reverse camera → Aftermarket