Android BMW X1 Navigation System
This page listed all our aftermarket android BMW X1 navigation system, please choose the correct models base on your car type.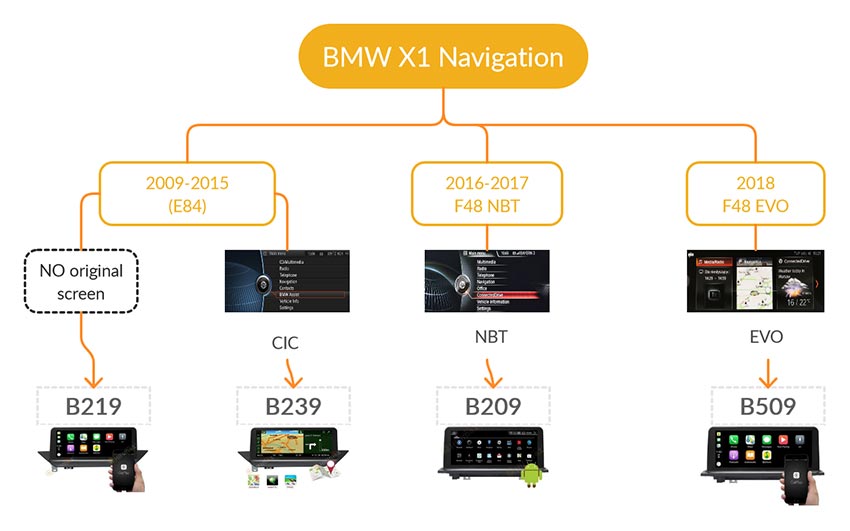 Usually, check the main menu (CIC/NBT/EVO) on the BMW X1 original display (photo showed as below), then will know which model fits your car. 


What is NBT, EVO, CIC?  Click here to learn more.

 If you are not sure which one is for your car, you can send us the photo (with the main menu on display) of the dashboard, we can confirm the car compatibility for you. 
The BMW X1 auto radio head unit work after replaced the android screen? 
Yes, because it just replaced the BMW display only, the OEM BMW X1 radio CD head unit still in the car, thus, all original functions work as same as before, such as steering wheel controls, radio, CD/DVD, Bluetooth, parking sensors, factory car info will display in the new android display.
The iDrive work in the factory CIC/NBT/EVO menu, it also works in the android menu. 
What's the benefit for android BMW X1 navigation upgrade/retrofit?
The android BMW X1 navigation system integrated the latest Android os, GPS, navigation, music, video, USB, Bluetooth, Wi-Fi, support Carplay & Android Auto (optional), backup camera, touch screen, can install a lot of apps, Spotify, Youtube, and so on. 

The navigation function also supports online & offline Navi maps, like Google map, Waze, IGO, Sygic, Navitel, etc, easy to update the map. 

How to install the BMW X1 android navigation system?
That is easy to install the BMW X1 android navigation, the power harness is plug and play. It just takes 20-30 minutes for an experienced installer.

BMW X1 F48 navigation Installation manual, visit here.
BMW X1 E84 navigation Installation manual, visit here.

For more details on the installation guide for BMW android navigation, visit this page.