How to install the Android BMW F10 F11 Navigation GPS screen?
Replacing factory BMW 5 series F10 F11 original display with
after-market android navigation screen is very popular in recent years.
The installation is similar for our other models, that is plug and play, no need to cut the wires, no modification, no coding, you can watch the video demo below.


Downlaod the installation wire-diagram as below:
 
What kind of Android Screen are for BMW F10 F11 2011~2016?
If your BMW 5 series F10/F11 made in 2011-2012 with CIC system, install [B208]. if your BMW 5 series F10/F11 made in 2013-2016 with factory NBT system, then you should install the [B218], both of this two models are 10.25'' screen, it looks like OEM navigation style.

Now we have new models for BMW F10 F11, the new model with unique stand up screen design, it has a better view angle and also 10.25'' screen, looks like new BMW 7 series factory infotainment system, It is pop up screen.
Click here to read more.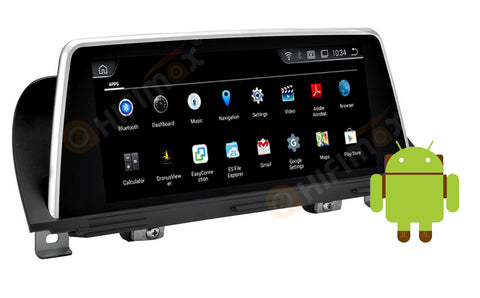 In the past few monthes, we offer new 12.3 inch Android screen for this car type, please click here to learn more about it.


Installation steps:
1: Remove the AC panel. 2, Remove the connector from the AC panel
3: Remove 2 screws and take out the radio panel 4: Remove the 2 connectors on the back of Radio panel


5: Remove 2 screws and take out the radio head unit 6: Remove the power cables from the radio Head unit
7: Remove 2 optical cables from factory harness 8, The 2 optical cable (green color) was removed
9, Our power cable with holes ready for optical cables 10, Insert the optical cable to our power cable
11, Wire diagram (for our power cable) showed as below photo:
A: Connect to factory CD head unit (2 optical cables was moved to this power cable) B: Connect to the factory power harness
C: Connect the power cable/LVDS/GPS antenna to the back of our android screen. 12: Connect and location for the GPS antenna



13,Connect the AUX 14, Connect the AUX (under armrest box)
15, Can power on the head unit to test if all the wires were well connected or not, if all ok, then recover the car dashboard, 16 Done.
 You can also click the icon below to download the installation wire-diagram / instructions for BMW 5 series F10 F11 CIC NBT android GPS screen.
Click me

download (PDF)