How to install the Android BMW F10 F11 Navigation GPS Head unit?
Replacing factory BMW 5 series F10 F11 auto radio and CD system with
after-market navigation android screen is very popular in recent years.
The installation is similar for our models, that is plug and play, no need to cut the wires, no modification, no coding, you can watch the
video demo
below.
 
What kind of Android Screen are for BMW F10 F11 2011~2016?
If your car is BMW 5 series F10/F11(2011-2012, with a factory CIC system, then you can install the [B208]. if your car is from BMW 5 series F10/F11 (2013-2016, with factory NBT system, then you should install the [B218].

Android 9.0 / 10 OS
Latest iD7 menu
4GB Ram / 64GB Rom (optional)
Touch screen, Bluetooth, WiFi, support Google map, Waze, iGo, etc,
Support iDrive, Carplay.
Keep ALL factory functions after replaced this android screen.

The model with the same appearance, but in fact, the LVDS is different, the B208 with 4 PIN LVDS (for factory CIC system), while the B218 has 6 Pin LVDS, that is special for the BMW F10 F11 with NBT system (6 pinsLVDS)
Now we have new models for BMW F10 F11, the new model with unique stand up
screen design, it has a better view angle and anti-reflection screen,
Click here to read more.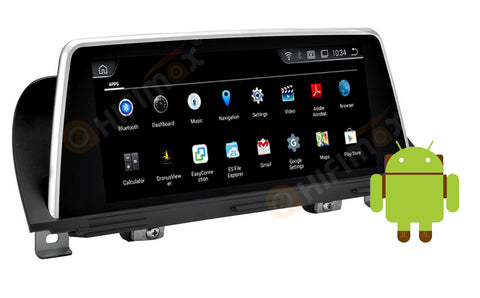 Installation steps:
1: Remove the AC panel. 2, Remove the connector from the AC panel
3: Remove 2 screws and take out the radio panel 4: Remove the 2 connectors on the back of Radio panel


5: Remove 2 screws and take out the radio head unit 6: Remove the power cables from the radio Head unit
7: Remove 2 optical cables from factory harness 8, The 2 optical cable (green color) was removed
9, Our power cable with holes ready for optical cables 10, Insert the optical cable to our power cable
11, Wire diagram (for our power cable) showed as below photo:
A: Connect to factory CD head unit (2 optical cables was moved to this power cable) B: Connect to the factory power harness
C: Connect the power cable/LVDS/GPS antenna to the back of our android screen. 12: Connect and location for the GPS antenna



13,Connect the AUX 14, Connect the AUX (under armrest box)
15, Can power on the head unit to test if all the wires were well connected or not, if all ok, then recover the car dashboard, 16 Done.