Below is the BMW android screen installation manual for BMW CCC CIC & NBT,
these car types with the same features when replaced with the android screen, thus, the wire diagram is actually are the same.
If your car is original BMW EVO system, the wire connection is different, please click here.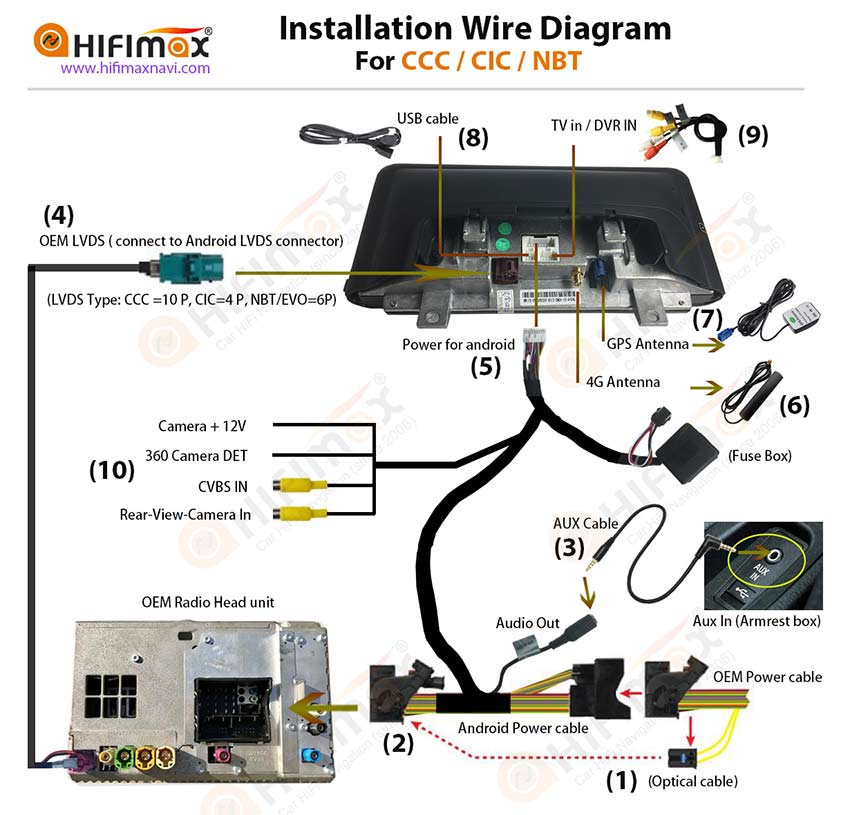 Remark:
(1): Move the optical cable (if any) to android power harness (if not, no sound output),
read more
.
(3): For some car types, it need to connect the AUX cable (if not, no sound in android mode),
read more


(4): Connect OEM LVDS cable to android screen,
read more


(5): For Qualcomm model, it need to connect 4G antenna (PX6 model without it)
(7): Install the GPS antenna (DO NOT use GPS antenna splitter),
read more


(9): TV/DVR (dash CAM) is optional for installation.


(10): If you install the aftermarket backup camera, it need to get the power from the android power cable, DO NOT connect it to the rear reverse lamp.

More information on installation guide.
The install manual above let you have a general idea for the installation. For some steps, if you not so clear of it, Please click here to read more details.
(or just use the phone to scan the QR code below)



 Important Tips.
(1) Cut off the power before install the android screen (for safty and avoid accident) .

(2) Test all functions before recover the dashboard, to avoid open the dashboard
once again

(3) If you ask other installer to install it for you, you still have a general idea for the installation, and know how to test the functions.