Below is the BMW android screen installation manual for BMW EVO head unit,
If your car is original BMW CCC, CIC, NBT system, the wire connection is different, please click here.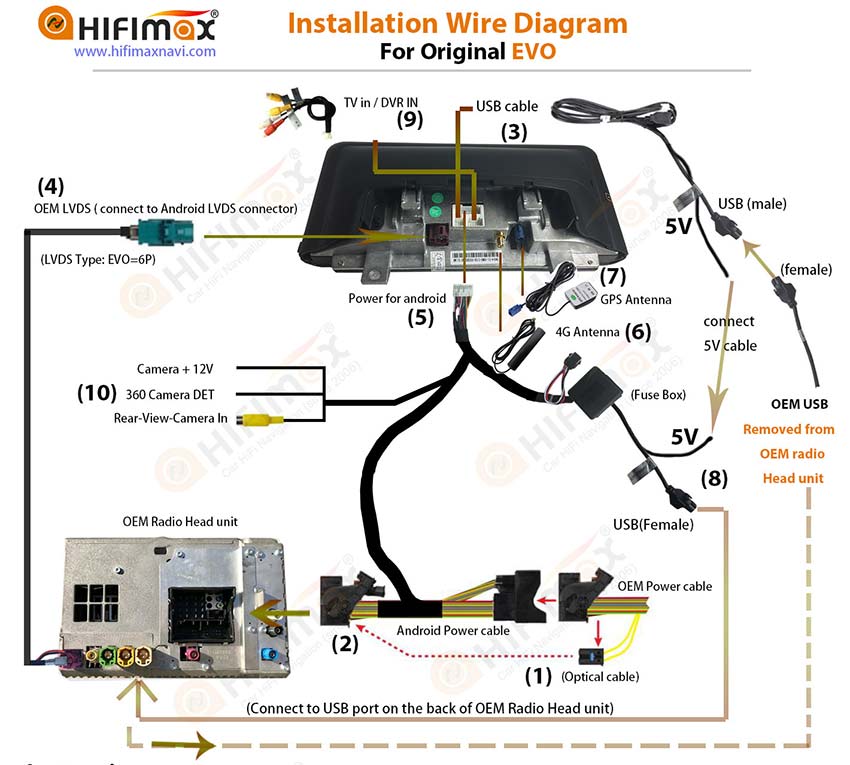 Remark:
(1): Move the optical cable (if any) to android power harness (if not, no sound output),
read more
.
(3): For EVO car type, it need to connect well the USB (if not, no sound output
)

(4): Connect OEM LVDS cable to android screen,
read more

(5): For Qualcomm model, it need to connect 4G antenna (PX6 model without it)
(7): Install the GPS antenna (DO NOT use GPS antenna splitter),
read more

(9): TV/DVR (dash CAM) is optional for installation.


(10): If you install the aftermarket backup camera, it need to get the power from the android power cable, DO NOT connect it to the rear reverse lamp.
USB connection - Video demo
For the BMW EVO android screen replacement, the most frequently asked questions is about the USB connection, please watch the video below




More information on installation guide.
The install manual above let you have a general idea for the installation. For some steps, if you not so clear of it, Please click here to read more details.